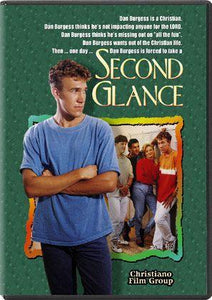 Released in 1993 by Christiano Film Group
This is one of the most encouraging films that any Christian could watch. High school senior Dan Burgess does not think he's impacting anyone for the Lord. He thinks he's missing out on all the fun. He thinks the Christian life has too many restrictions on him. So one day, he wishes he'd never become a Christian. He gets his wish...and then sees things from a very different perspective.
Cast: David White, Lance Zitron, Blaine Pickett
Writers: Danny Carrales, John Newcombe
Michael Martin, Rich Christiano
Producer, Director: Rich Christiano
Extra feature: Spanish Language
50 Minutes, Drama
Guide to home and public use
Rental Period: One time showing at a single event.
The standard cost to rent this movie is $25. This is for a one time showing at a single event regardless of the number of people in attendance. The Rental Price does not include the DVD.