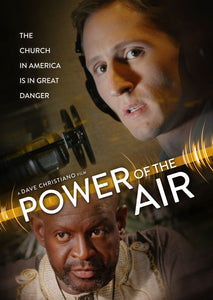 POWER OF THE AIR church rental pricing is based on the number of viewers.  Our pricing is set up with two tiers:
1-50 viewers - $100 rental
Over 50 viewers - $150 rental

Using the drop down menu above, select the appropriate number of viewers for your showing. The rental price is for one showing.
We also offer this movie on a LOVE OFFERING basis. If you decide to show the movie and take a love offering, after your showing, you would mail your payment to: Dave Christiano Films, 5200 SE Tater Peeler Rd, Lebanon TN 37090.
Thank you for your support in showing Christ-centered films.
POWER OF THE AIR - Released by Five & Two Pictures
A Missionary from Africa comes to the United States and shares with a concerned Christian how he feels the church in America is being deceived and in great danger. The Christian is very convicted by what he hears, makes a significant change in his life, and then sets forth a plan to reach his city with the gospel. He faces unexpected challenges, costs and struggles to execute his idea, plus the uncertainty of knowing if his effort will produce any results. This movie is about the power of Hollywood and the media, and how it affects your life.
Cast: Nicholas X. Parsons, Patty Duke, Michael Gross
Karyn Williams, Tracy Goode, Veryl E. Jones
Writer, Producer, Director: Dave Christiano
90 Minutes, Drama
POWER OF THE AIR - Movie Trailer from Five & Two Pictures on Vimeo.