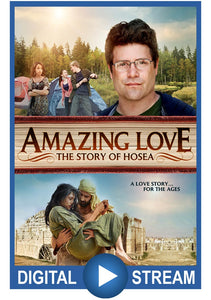 Available Worldwide

Buy Includes Streaming Access Forever
Rent Includes 3-Day Streaming Window

AirPlay & Chromecast Enabled

Redemption Link Sent After Purchase
Want the DVD instead? Click here.
A Love Story For The Ages - Teen friends, Steve, Carrie, Cooper, and Gameboy embark on a weekend camping trip lead by their church youth group leader Stuart (Sean Astin) and his wife Beth (Erin Bethea). Joining them is an outsider Ashley, a self-involved rich kid, whose attitude causes a major commotion within the group, specifically between her and Carrie. Before it gets too out of hand though, Stuart takes this opportunity to share with the kids the incredibly powerful biblical story of Hosea; a story of immovable faith, impeccable commitment, and impervious love. Is this story able to inspire the kids to open their hearts to such an amazing love?
Cast: Sean Astin, Erin Bethea, Elijah Alexander, Patty Duke
Writers Greg Mitchell, Rich Christiano, Dave Christiano
Producers: Daryl LeFever, Rich Christiano
Director: Kevin Downes
Extra features: English Subtitles
80 Minutes, Drama
Licensed for home use only. For public showings, see Church Rentals

"Every actor was strong and believable. Well cast and shot. Amazing love is a great story of God's unconditional love."
-- Michael Catt, Senior Pastor, Sherwood Baptist Church
"A powerful story of redemption. This one should not be missed."
--The Dove Foundation (5 STARS)
"This movie was excellent, both theologically and dramatically."
--Paul Reiner, Pastor, Salina Bible Church, Salina, PA
"What a beautiful picture of our Father's love. I know it is going to impact many lives."
--James Weaver, Calvary Chapel, Columbia, MO
"Wow! I am in tears. Just finished watching Amazing Love and it blew me away. The simplicity and beauty of God's love came through loud and clear."
--Matt Mitchell, Potter's Hand Bible Church, Apex, NC
"I absolutely loved it. What a great way to learn about the Bible. It was like having a bible study that was exciting and relevant. This movie is a great tool that all churches should use."
--Isaac Hernandez, EVP of Programming/The Parables Network