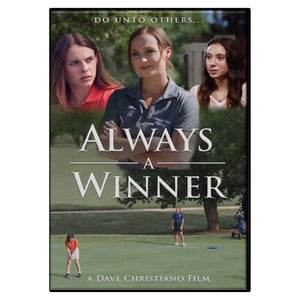 You are buying tickets for the theater showing of ALWAYS A WINNER on Thursday, November 16th at 7:10pm at Malco Owensboro Cinema located at Gateway Commons, 2700 Calumet Trace, Owensboro, KY 42303
All tickets are sold in advance and are NOT available from the theater OR at the door, so please get your tickets in advance now.  
When you purchase your tickets, your name and number of tickets will be added to our list.  We will not be emailing you any tickets. Come to the theater that night and we will be set up at the entrance of the theater where the movie is showing.  
There are no trailers shown before the movie and the event will begin promptly on time at 7:10.  The movie is 85 minutes long.  
The Story:  Emily Hilton transfers to a new Christian high school for her senior year determined to repeat as state golf champion.  As she begins that quest, she is greatly affected by her new golf Coach and teammates, and comes to learn what is really most important in life.   
This movie has a very practical message applicable to all viewers, based on what could be considered the most important principle presented in the Bible.
This is the 3rd and final movie in the series than begin with "Remember The Goal" and followed with "The Perfect Race".  NOTE:  You do not have to see the first two movies to understand and follow this one.  All 3 of these movies are stand alone storylines. 
The recommended audience for this movie is middle school and older.  

A Dave Christiano Film
Producer of "Power of the Air", "Remember The Goal", The Perfect Race", "Me & You Us Forever" and "Late One Night".
Thank you for your support!