Back to Play The Flute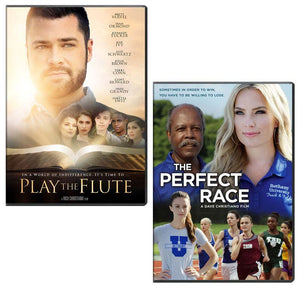 Play The Flute - DVD

Brandon Cobb (Brett Varvel) is a new Youth Director who takes over a teen church group that's filled with spiritual apathy. As he tries to motivate his students to get serious about their relationship with the Lord, he finds himself in an uphill battle. Although discouraged by their indifference, Brandon sticks to his calling of boldly sharing the truth of God's Word. What happens next is something Brandon and his students will never forget.
The Perfect Race - DVD
Allee-Sutton Hethcoat reprises her role as Coach Courtney Smith-Donnelly from "Remember The Goal" in "The Perfect Race". She takes her coaching wisdom to the track and works with a female athlete at a small Christian college who tries to overcome long odds and win a national title in the 800 meter run. Coach Donnelly's training methods and teachings about life both line up with the concept that in order to win...you first have to lose.