Back to Movies & DVDs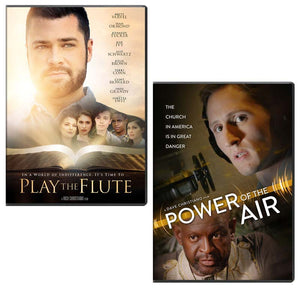 Play The Flute - DVD
Brandon Cobb (Brett Varvel) is a new Youth Director who takes over a teen church group that's filled with spiritual apathy. As he tries to motivate his students to get serious about their relationship with the Lord, he finds himself in an uphill battle. Although discouraged by their indifference, Brandon sticks to his calling of boldly sharing the truth of God's Word. What happens next is something Brandon and his students will never forget.
Power Of The Air - DVD
A Missionary from Africa comes to the United States and shares with a concerned Christian how he feels the church in America is being deceived and in great danger. The Christian is very convicted by what he hears, makes a significant change in his life, and then sets forth a plan to reach his city with the gospel. He faces unexpected challenges, costs and struggles to execute his idea, plus the uncertainty of knowing if his effort will produce any results. This movie is about the power of Hollywood and the media, and how it affects your life.