Back to Movies & DVDs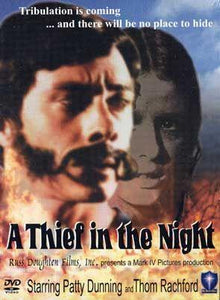 Released in 1972 by Mark IV Pictures
The first of the major films dealing with the subject of end times grabbed audiences world wide when this movie was released. Russ Doughten and Donald Thompson's classic film has been seen by millions of people with many salvation decisions being recorded from the gospel presented in this movie. It follows the story of a non-believer named Patty and the end of the world scenario. This is probably the most widely seen Christian film of all time! There are three other movies that follow in the series, namely, "A Distant Thunder, "Image of the Beast" and "The Prodigal Planet".
Cast: Patty Dunning, Thom Rachford
Writer: Jim Grant
Producers: Russell S. Doughten Jr, Donald W. Thompson
Director: Donald W. Thompson
69 Minutes, Drama
Extra feature: Spanish and Portuguese Language
Licensed for home use. Public license will be posted soon on our website.

Guide to public use and group showings