Back to Monthly Special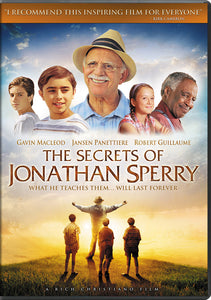 Released in 2009 by Five & Two Pictures
in association with Christiano Film Group
Dustin and his two best buddies are twelve year-olds looking forward to a summer of fun in 1970. When Dustin mows the lawn of seventy-five year old Jonathan Sperry, a man he has seen at church, a unique friendship develops. What happens the rest of this summer is something Dustin and his friends will never forget. A high quality production with a great cast and message!
Cast: Gavin MacLeod, Jansen Panettiere, Robert Guillaume
Writers: Rich Christiano, Dave Christiano
Producers: Rich Christiano, Chad Gundersen
Director: Rich Christiano
96 Minutes, Drama, Closed Captioned
Several Bonus Features on the DVD: Two Behind the Scenes Documentaries, Director / Actor commentary, Spanish Language
Licensed for home use. Click here for Public License.
Guide to home and public use