Back to Monthly Special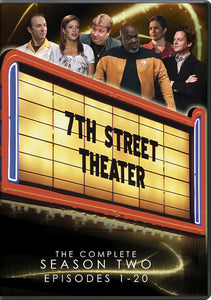 Released in 2010 by Dave Christiano Films.
All 20 episodes in Season Two of 7th Street Theater are on 4 DVDs in this box set. This series deals with a variety of lessons and issues all pertaining to the Christian life.
7th Street Theater is a drama series about five Christian actors who perform a weekly stage show for their community. The cast performs shows every weekend, and during the week, after they have selected a specific theme to do for that particular weekend show, they write and act out scenes in trying to convey their message.
Topics addressed in this second season of episodes include: sensitivity to others (Episode #1), three answers to any prayer (Episode #2), evangelism (Episode #4), direction in life (Episode #5), faithfulness in marriage and prayer (Episode #6), the future and loving one another (Episode #7), judging by appearance (Episode #8), the will of God in relationships (Episode #12), marriage vows and divorce (Episode #13), honesty (Episode #14), overcoming depression (Episode #15), racism (Episode #16), trusting God (Episode #17), perspective on money (Episode #18), selecting a mate (Episode #19), and being born again (Episode #20).
Episode 1 - A New Look
Episode 2 - The Other Side
Episode 3 - The Ticket
Episode 4 - Star Mission
Episode 5 - A Million Roads To Take
Episode 6 - The Bus Stop
Episode 7 - A Day Ahead
Episode 8 - Executive Gates
Episode 9 - The Letter
Episode 10 - The Letter (Part 2)
Episode 11 - The Letter (Part 3)
Episode 12 - The Letter (Part 4)
Episode 13 - A Sudden Change
Episode 14 - A Sudden Change (Part 2)
Episode 15 - On The Air
Episode 16 - Black and White
Episode 17 - A Postcard From Florida
Episode 18 - The Almighty
Episode 19 - The Man of My Dreams
Episode 20 - Ye Must
Cast: Hugh McLean, Johanna Jowett, Stacey J. Aswad,
Shane Willimon, Mark Scarboro, Jack Kelly,
Cody Harding, Terry Loughlin
Guest Actors: Bryan Gallagher, Shayne Kohout

Writer-Producer-Director: Dave Christiano
Total Time for all 20 episodes: 460 Minutes, Closed Captioned
Licensed for home use. Public license from CVLI.
If you do not have CVLI, click here for Public License.
Guide to home and public use