Back to Monthly Special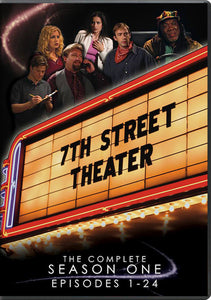 Released in 2007 by Dave Christiano Films.
All 24 episodes in Season One of 7th Street Theater are on 6 DVDs in this box set. This series features many different skits and short lessons about Christian living in the world today.
7th Street Theater is a drama series about five Christian actors who perform a weekly stage show for their community. The cast performs shows every weekend, and during the week, after they have selected a specific theme to do for that particular weekend show, they write and act out scenes in trying to convey their message.
Topics addressed in this first Season of episodes include: integrity (Episode #1), knowing the will of God (Episode #2), judging and legalism (Episode #5), acceptance (Episode #6), purity before marriage and abortion (Episode #7), deception (Episode #8), the importance of the word of God (Episode #11), what it means to follow Christ (Episode #12), gambling, drinking and prayer (Episode #13), fame and fortune (Episode #14), eternity (Episode #15), faith (Episode #16), the glory of God (Episode #20), pornography (Episode #22), and identity in Christ (Episode #23).
Episode 1 - The Commercial
Episode 2 - Surprise!
Episode 3 - A Christian Practical Joke?
Episode 4 - A Christian Practical Joke? (part 2)
Episode 5 - Jamie's Earrings
Episode 6 - The Student
Episode 7 - One Lucky Lady
Episode 8 - The Vanish of New Jersey
Episode 9 - Shelley
Episode 10 - Shelley (part 2)
Episode 11 - The Word
Episode 12 - The Heckler
Episode 13 - The Game
Episode 14 - Movie Star
Episode 15 - No Lights
Episode 16 - Andi
Episode 17 - An Actor's Big Chance
Episode 18 - An Actor's Big Chance (part 2)
Episode 19 - An Actor's Big Chance (part 3)
Episode 20 - An Actor's Big Chance (part 4)
Episode 21 - Jamie's Brother
Episode 22 - Jamie's Brother (part 2)
Episode 23 - Switched Identities
Episode 24 - Going and Coming
Cast: Josh Gaffga, Hugh McLean, Johanna Jowett,
Stacey J. Aswad, Shane Willimon, Jack Kelly,
Cody Harding, Terry Loughlin
Writer-Producer-Director: Dave Christiano
Total Time for all 24 episodes: 550 Minutes, Closed Captioned
Licensed for home use. Public license from CVLI.
If you do not have CVLI, click here for Public License.
Guide to home and public use