Back to Late One Night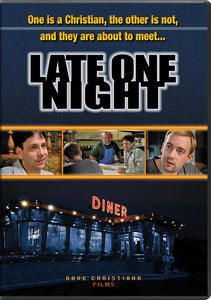 Released in 2001 by Dave Christiano Films
Three factory workers make their routine stop at a diner late one night. Just before closing, a man comes in and takes a seat at the counter. One of the workers, an antagonist named Larry, tries to strike up a conversation with the man but he doesn't respond. Disturbed by this, Larry persists and finds out the man is a Christian. What follows is an intense drama about the most important issue in life...and eternity.
Cast: Brad Heller, Josh Gaffga, Hugh McLean
Writer, Producer, Director: Dave Christiano
Extra feature: An interview with Josh Gaffga, Hugh McLean,
and Dave Christiano
33 Minutes, Drama
Licensed for home use. Public license from CVLI.
If you do not have CVLI, click here for Public License
Guide to public use and group showings