Back to Heaven's War - Watch The Trailer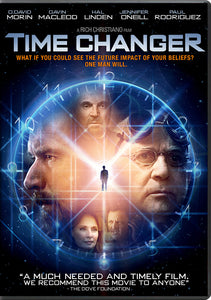 Released in 2002 by Five & Two Pictures
in association with Christiano Film Group
The year is 1890 and Bible Professor Russell Carlisle has written a new manuscript. His book is about to receive an unanimous endorsement from the board members at Grace Bible Seminary until his colleague, Dr. Norris Anderson, has a "difficulty with something." Dr. Anderson believes what Carlisle has written could greatly affect future generations. Using a secret time machine, Anderson sends Carlisle over 100 years into the future, offering him a glimpse of where his beliefs will lead.
Cast: D. David Morin, Gavin MacLeod, Jennifer O'Neil
Producers: Rich Christiano, Kevin Downes
Writer-Director: Rich Christiano
99 Minutes, Drama, Closed Captioned
Extra Features: 53 minute Making Of Documentary
Director / Actor Commentary, Spanish Language
Licensed for home use. Click here for Public License.
Guide to public use and group showings