Back to Digital International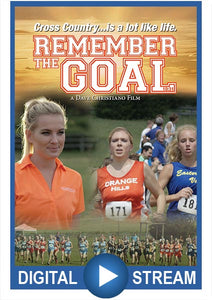 Available Worldwide

Buy Includes Streaming Access Forever

AirPlay & Chromecast Enabled

Redemption Link Sent After Purchase
Want the DVD instead? Click here.
Released in 2016 by Five & Two Pictures.  A Dave Christiano Film.   A female coach (Allee-Sutton Hethcoat) fresh out of college takes over the cross country team at an all girls Christian school and tries to lead them to their first state title in this inspirational drama. When the runners begin to train, the top five girls all deal separately with particular issues relevant to teen life. As each of these stories unfold, so does the wisdom of the young coach as she guides the girls along the pathway of life.
The follow up film to "Remember The Goal" is called THE PERFECT RACE and there is a 3rd movie in this series entitled ALWAYS A WINNER.
"I recommend the movie "Remember the Goal" to you as fine family entertainment. It has a timely message that will resonate to the athlete and non-athlete alike."   - Jim Ryun, three-time Olympian, multiple world record holder
"The message was amazing and the film left many of us coaches in tears as we have all had parents or kids that we have had to deal with or help in tough situations.' - Coach Daniel, Greensburg IN
"REMEMBER THE GOAL was the best! Great movie! All I know who saw it thought it was great!"  - Tim Key, Director of Missions, Shelbyville TN
"What a blessed message for life, the principal, the pace, the race...it's a win to the Glory of God!! - Ken Swager, Film Sponsor, The Dalles, OR
Cast: Allee-Sutton Hethcoat, Quinn Alexis, Sydney Marks
Lacy Hartselle, Margaret Tant, McKensie Miller, Jayla Palmer
Writer, Producer, Director: Dave Christiano
88 Minutes, Drama, Closed Captioned
Licensed for home use. Click here for Public License
Guide to public use and group showings
RememberThe Goal - Movie Trailer from Five & Two Pictures on Vimeo.