Back to Church Rental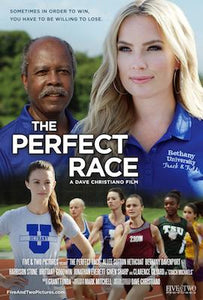 THE PERFECT RACE church rental pricing is based on the number of viewers.  Our pricing is set up with two tiers:
1-50 viewers - $100 rental
Over 50 viewers - $150 rental

Using the drop down menu above, select the appropriate number of viewers for your showing. The rental price is for one showing.
We also offer this movie on a LOVE OFFERING basis. If you decide to show the movie and take a love offering, after your showing, you would mail your payment to:
Dave Christiano Films, 5200 SE Tater Peeler Rd, Lebanon TN 37090.
Thank you for your support in showing Christ-centered films.
THE PERFECT RACE - Released by Five & Two Pictures
Allee-Sutton Hethcoat reprises her role as Coach Courtney Smith-Donnelly from "Remember The Goal" in "The Perfect Race". She takes her coaching wisdom to the track and works with a female athlete at a small Christian college who tries to overcome long odds and win a national title in the 800 meter run. Coach Donnelly's training methods and teachings about life both line up with the concept that in order to win...you first have to lose.

This movie is for teens, college age, singles and adults. It presents multiple messages dealing with subjects such as jealousy in a dating relationship, an example of true love and commitment, lying & cheating in school and the spiritual truth that you lose your life to gain Christ.
Cast: Allee-Sutton Hethcoat, Clarence Gilyard, Bethany Davenport, Harrison Stone
Writer, Producer, Director: Dave Christiano
96 Minutes, Drama
The Perfect Race - official movie trailer from Five & Two Pictures on Vimeo.