Back to Christiano Brothers Films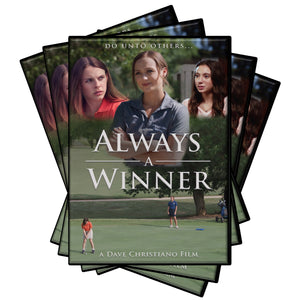 You get 5 copies of this movie on DVD to share the message!
Emily Hilton transfers to a new Christian high school for her senior year determined to repeat as state golf champion. As she begins that quest, she is greatly affected by her new golf Coach and teammates, and comes to learn what is really most important in life.

ALWAYS A WINNER is the 3rd and final movie in the series that began with REMEMBER THE GOAL and followed with THE PERFECT RACE. 
Cast: Jenn Cooke, Amelia Still, Evangeline Griffin, Ashley Brant, Maddy Lee Ann
Writer, Producer, Director: Dave Christiano
85 Minutes, Drama, Closed Captioned
Licensed for home use. 
Guide to public use and group showings