Back to Alphabetical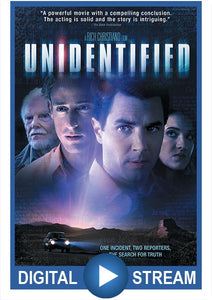 Available Worldwide

Buy Includes Streaming Access Forever

AirPlay & Chromecast Enabled

Redemption Link Sent After Purchase
Want the DVD instead? Click here.
An incident occurs in a small Texas town. A man, while driving at night home on a back highway, claims to have encountered a UFO.

Two reporters from a national magazine are sent to investigate; their editor wants to publish a story on the controversial subject of UFOs. Brad (Josh Adamson) thinks they're a hoax but Keith (Jonathan Aube) senses that something is out there. What follows is a quest by each man to prove the other wrong. Are UFOs real? A hoax? Is there an explanation?

From Rich Christiano, the director of Time Changer and The Secrets of Jonathan Sperry, Unidentified is a thought provoking film that goes beyond the UFO debate and challenges viewers to consider life's most important question! This film is VERY evangelistic and is an excellent witnessing tool! (85 min)

Originally released in theaters.


Cast: Jonathan Aube, Josh Adamson, Michael Blain-Rozgay, Jenna Bailey, Lance Zitron, Rebecca St. James
Writer: Rich Christiano
Producers: Rich Christiano, Alvin Mount
Director: Rich Christiano
Extra features: A 40 minute documentary on "The Making of Unidentified", A 9 Minute Cast Featurette, Director / Actor Commentary, Spanish Language, Special Message From the Director, Closed Captioned
85 Minutes, Drama, Close Captioned